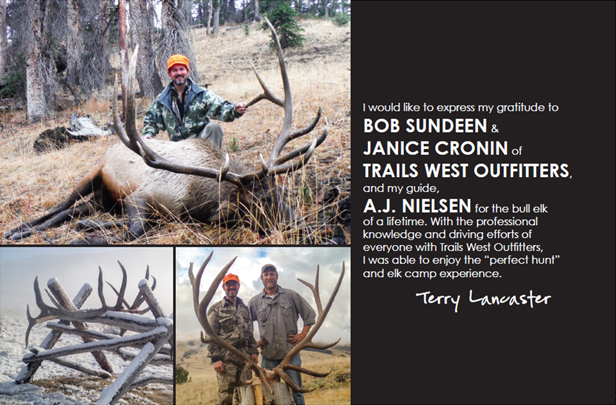 Trails West Outfitters, LLC - 2017 Price List & Dates
HUNT FEES
Bull Elk - Rifle - Wilderness Camp
Two on One
7 Day
$6,500.00
Bull Elk - Rifle - Wilderness Camp
One on One
7 Day
$7,500.00
Bull Elk - Archery - Wilderness Camp
One on One
7 Day
$8,000.00
Bull Elk - Late Season
One on One
7 Day
$8,000.00
Late season Cow Elk
Two on One
3 Day
$2,000.00
Bighorn Sheep
One on One
10 Day
$9,500.00
Mule Deer - Wilderness Camp
One on One
6 Day
$5,500.00
Mule Deer - Lodge Hunt
Two on One
5 Day
$4,500.00
Moose
One on One
7 Day
$7,500.00
Mountain Goat
One on One
7 Day
$6,500.00
Antelope
Two on One
3 Day
$2,500.00
Black Bear
One on One
5 Day
$4,500.00
Mountain Lion
One on One
7 Day
$6,500.00
Non-Hunting Companions
-----
$300.00
per person per day
NON-RESIDENT FEES

License Type

License Fee
Special Elk License
$1,071.00
Regular Elk License
$591.00
Elk Preference Point
$50.00
Bighorn Sheep License
$2,266.00
Bighorn Sheep Preference Point
$100.00
Moose License
$1,416.00
Moose Preference Point
$75.00
Regular Deer License
$326.00
Special Deer License
$566.00
Deer Preference Point
$40.00
APPLICATION AND LICENSE DRAW DATES

Animal

Application Dates
Draw Date
Elk
Jan 1 - Jan 31
Late Feb
Bighorn Sheep & Moose
Jan 1 - Feb 28
Early May
Deer & Antelope
Jan 1 - May 31
Late June
Preference Point Only
July 1 - Oct 31
SUMMER PACK TRIPS
$325.00 per person per day
Call for pricing on trips with less than 4 guests.
GRATUITIES
Tips or Gratuities are not included in the price of the pack trip or hunt. All of our guides, cooks and wranglers work hard to assist our hunters and clients where ever possible and appreciate all gratuities. Traditional tipping today is based on 10%-20% of trip costs. Each hunter/client should tip based on his/her satisfaction of their wilderness/hunt experience.